Doug Gilford's Mad Cover Site
Launched: August 16, 1997
Updated: April 1, 2014
| | | |
| --- | --- | --- |
| | Run out and get yourself a copy of Inside Mad so you can fold out Sergio Aragonés' amazing poster showing six decades of Madness in the Mad offices. To help you identify every person and thing he's drawn, I'm in the process of putting together a viewer with labels! | |




Long overdue update!
Editing is proceeding rather well. We have more great sound bites than we know what to do with. We have begun the search for B-roll! Which brings us to this:
Here's your chance to help out with
WHEN WE WENT MAD! - we are looking for any photos or videos that have references to MAD in them - kids reading back issues, photos from MAD trips, videos of tv appearances - we need archival footage for this! Anyone who has experience in researching/procuring archival footage - LET US KNOW!

---
---

Here are links to all 141
Mad Specials
and all 31
annuals
(More Trash, The Worst and Follies).
Mad Specials
and annuals were reprints of past articles, sometimes with new stuff thrown in.
Each magazine's contents page has reprinted article titles linked to their regular issue sources.
Where new stuff exclusive to the magazines happen, I note the article title in red.
The UGOI (Usual Gang Of Idiots: contributing artists, writers, etc.) responsible for non-reprinted,
original material has been added to each idiot's respective
list
.
Yes, this site has a
Facebook
group... and you can follow on
Twitter
too!


---
Look at Mad as it happens at their website:
madmagazine.com
.

Subscribe to MAD!

A nice
CNN
article on Al Jaffee and other Mad guys (with a reference to this site!)

Al Jaffee
/
Mort Drucker
/
Frank Jacobs
/
Don Martin
/
Harry North, Esq.
/
Don (Duck) Edwing
/
Norman Mingo
/
Dave Berg
/
Max Brandel
/
Will Elder
/
Tom Koch
/
Jack Davis
/
Dick DeBartolo
/
Wally Wood
/
Stan Hart
/
Jack Rickard
/
Lou Silverstone
/
Antonio Prohias
/
Irving Schild
/
Harvey Kurtzman
/
Angelo Torres
/
Arnie Kogen
/
George Woodbridge
/
Larry Siegel
/
Paul Peter Porges
/
Lester Krauss
/
Bob Clarke
/
Joe Orlando
/
Kelly Freas
/
Sergio Aragones
/
Drew Friedman
/
Richard Williams
/
Tom Bunk
/
John Caldwell
/
Sam Viviano
/
Paul Coker, Jr.
/
Mark Fredrickson
/
Peter Kuper
/
Mike Snider
/
Rick Tulka
/
Hermann Mejia
/
Desmond Devlin
/
Tom Richmond
See the full UGOI (Usual Gang of Idiots)
list
of around 800 idiots!
A casual visit with Mad writer
Frank Jacobs
.
Bradford Smith added a
Justin Bieber signature
on Mad #508 to his
collection featuring
382 signatures
on 177 Mads!
If you're really, really interested in the ongoing research I do to keep this site accurate, head on over to
MadMumblings.com
where I have a section going that will surely put you to sleep.

Sam Viviano
Mad's Art Director

Hey, Doug!
Thanks again for remaining such a staunch fan of the magazine.
I can't tell you how much we here at the magazine rely on your site.
By the way, extra kudos to you for updating your site with more extensive contents and back cover scans.
I sometimes wonder when you find the time!
Your buddy,
Sam

Read other Fanmail
"Who is this guy on every Mad Magazine?"
If you're new to MAD or somehow missed it growing up,
take this 20 question basic knowledge quiz and read a brief history.
---
MADs For Sale

Selling the surplus of my MAD collection.
Some from the 1960s - 1980s.
Lots of stuff from 1990s - 2010s.
Items can be viewed at The Mad Shoppe.

(Note: not part of Doug's madcoversite.com)
QUESTION OF THE MOMENT

A very bearded Alfred crops up on #524. On what regular issues has he appeared hairier?


---
Dear Doug,
About 13 years ago I bought a house and really wanted to make my office something unique. I decided to laser copy some of my favorite Mad covers and use them as wallpaper. To this day I've not grown tired of looking at them, mainly because I have no business and only use my office to walk through to get to my bar out back.
Jamie

Jamie,
Very impressive. Looks like it took a lot of work. I put all the photos you sent in a big, long strip here.
Thanks for sharing your room.
Doug

p.s. Mad's blog has taken notice of your efforts!
Hey Doug
...your site is really an important reference - not only of the many decades that Mad Magazine has been published, but also of the type of humor that was prevalent in each decade. You are in many ways an historian and have done a great job.
read other letters I treasure
---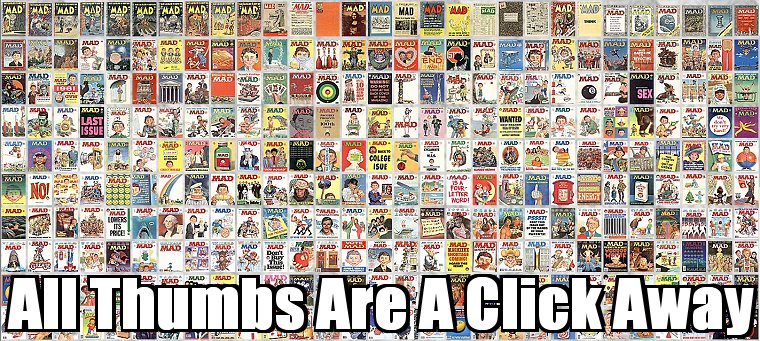 Have you seen Mad artist Tom Richmond's fantastic book?
It's called The Mad Art of Caricature!
What a great resource for anyone wanting to get into this type of art.
It's also great for fans of the form, like me, who shake our heads in wonder about how it's done. Lots of great Mad stuff inside, too!
Get it for yourself or the artist in your family.

Order it today!
---
If you happened upon my site and you actually made it this far down the page, I've got news for you: You have more than a passing interest in Mad Magazine. And if you haven't had the pleasure of reading Frank Jacobs' masterpiece The Mad World of William M. Gaines, then I'm not sure what to say.

Drop everything and buy it now!
---
| | | |
| --- | --- | --- |
| | A couple more older books that are required for your collection are Dick DeBartolo's Good Days and Mad and Maria Reidelbach's Completely Mad. Both books will give you history and laughs aplenty! | |
Doug recommends you further your Mad education. Buy this fine MAD junk.
Click on an image to get pricing information from AMAZON.COM.

An incredibly CHEAP
way to read the 23 Mad comics books!
This website is a labor of love.
Do you like websites as ad-free as much as I do?
If you've enjoyed visiting, consider helping me pay webhosting fees.
Sitemap
What's with all the Amazon links? For years I've been directing visitors to Amazon pages.
For every dollar you spend on anything at Amazon after clicking through from a link on my site,
I see about a nickel in the form of a gift certificate, which I use to buy Mad-related merchandise,
computer books, ecch! So consider coming here first the next time you want to go to Amazon
.
Thanks!