A 'Peanut' For Your Thoughts -
Charles Schulz and Mad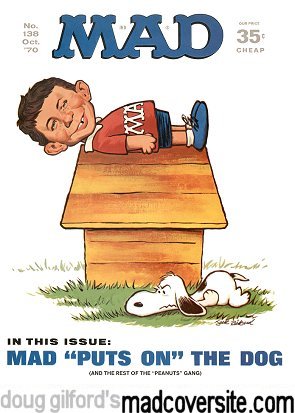 After Charles Schulz passed away February 13, 2000, I started recalling all the different times Charlie Brown and the gang appeared in Mad. Besides the countless number of 'Peanuts' cameos, many articles focused on the comic itself. Here is an extensive listing of the major articles and accidental observations as I catch them. See if you have some of these issues:

#24 July 1955
NEWSPAPER COMICS
HEADING -- Popcorn
Two characters meant to resemble Peanuts characters attempt to discuss their strip, "By George... This is clever. A tiny little cartoon strip about tiny little kids!" But one of the characters can't hear "...tiny little lettering..." so no discussion is possible.

#37 January 1958
SEE THEM NOW
Charlie Brown is shown hanging around Public Domain, PA. where "most story book characters come and settle down to lead normal lives."

#39 May 1958
HOW TO MAKE AMERICA'S KIDS SCIENCE CONSCIOUS
Lucy states Newton's Third Law of Motion to explain to Charlie Brown why he fell out of a wagon into the lake after trying to throw a ball at her.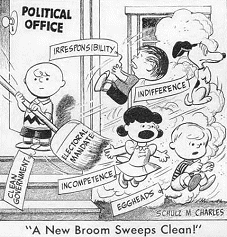 #45 March 1959
IF COMIC STRIP ARTISTS DREW EDITORIAL CARTOONS
SUBTITLE -- A New Broom Sweeps Clean!
Charlie Brown (labeled 'Clean Government') is pictured on the porch in front of his house (labeled 'Political Office') using a broom (labeled 'Electoral Mandate') to sweep away his friends (labeled 'Irresponsibility', 'Indifference', 'Incompetence', and 'Eggheads').

#46 April 1959
IF FAMOUS AUTHORS WROTE THE COMICS
SUBTITLE -- If Rudyard Kipling wrote 'Peanuts'

"You can talk of playin' ball
     or of climbin' up a wall
Or of playin' 'London Bridge
     is fallin' down!' 
But when it comes to tryin'
     out a kite that you'd be flyin',
Then you'd better give a call
     to Charlie Brown!"
That was from the first panel. The gang watches Charlie Brown run and fall off the edge of a hill as he attempts to fly a kite.

#57 September 1960
IF MAGAZINES CARRIED COMIC STRIPS
SUBTITLE -- If 'Peanuts' Appeared in 'Scientific American'
Charlie Brown attempts to fly a kite, stating increasingly complex mathematical formulas that are supposed to help him. Lucy grabs the string away and says, "2+2=4". An exasperated Charlie Brown watches helplessly as she has no trouble flying the kite.

#60 January 1961
AD FOR 'FURD FOULCAR'
Charlie Brown and Lucy decide they've been selected to help advertise this car because it's small enough for 'Peanuts' characters.

Worst From Mad #4 1961
SUNDAY COMICS WE'D LIKE TO SEE
"The first adult to ever appear in 'Peanutz'!

#68 January 1962
THE COMIC STRIP CHARACTERS' CHRISTMAS PARTY
Comic strip characters (including the Peanuts gang) interact at a Christmas party.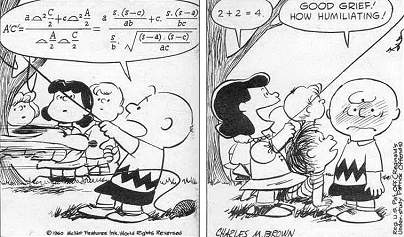 #77 March 1963
IF FIVE COMIC STRIP CARTOONISTS INTERPRETED THE AGE-OLD RIDDLE:
"WHY DID THE CHICKEN CROSS THE ROAD?"
Snoopy observes the chicken crossing the road from atop his dog house and calls the chicken "a creature of habit!"

#80 July 1963
MISERY IS A COLD HOT DOG
Mad's parody of Charles Schultz's first book 'Happiness is a Warm Puppy'.

#81 September 1963
IF COMIC STRIP CHARACTERS BEHAVED LIKE ORDINARY PEOPLE
SUBTITLE -- If Peanuts behaved like real-life children
An example is Lucy saying, "My Mommy's gonna buy me a doll house if I remember to always wipe my nose!"

#82 October 1963
COMIC LAND
A fan magazine for comic lovers featuring an article by Charlie Brown called "They make me work for peanuts!"

#86 April 1964
INSECURITY IS A PAIR OF LOOSE SWIM TRUNKS
Mad's parody of Charles Schultz's second book 'Security is a thumb and a blanket'.

#88 July 1964
COMICS FOR PUBLICATIONS THAT DON'T HAVE COMICS
SUBTITLE -- PITCHOUTS - for The Sporting News
A 'Peanuts' style comic featuring a Charlie Brown-like baseball manager mulling over options for his losing team.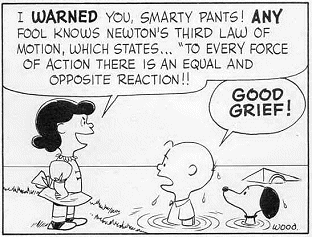 #89 September 1964
COMIC STRIPS THEY'D REALLY LIKE TO DO
This was an actual contribution to Mad from Charles M. Schulz himself! The following text was contributed by Schulz: "This is the sort of comic strip I have secretly longed to do. When one is involved in drawing a strip like "Peanuts," which demands so much research and has such detailed characterization, intricate backgrounds, ornate costuming and complicated plots, one naturally looks with envy upon those who draw simple strips. I sometimes spend hours on one particular panel in order to achieve just the right lighting and action and dramatic effect. By drawing a much simpler type of strip, I would be able to give up having to use reference photos and pose live models." His contribution shows a flower watching a leaf float to the ground and sighing. The flower thinks, "Stupid Leaf!" The same article also had 'Mary Worth' creators, Ken Ernst and Allen Saunders, wishing they could do a 'Peanuts' type strip and then offering their example.

#93 March 1965
I GOT ALL THE FINKS I NEED
Mad's parody of Charles Schultz's third book 'I Need All the Friends I Can Get'.

#97 September 1965
BEING RICH IS BETTER THAN A WARM PUPPY
Mad offered this article to inspire a third successful book out of Charles Schulz.

#107 December 1966
THE MAD COMIC STRIP CHARACTERS' FORUM ON CURRENT AFFAIRS
SUBTITLE -- The Problem of Red China as discussed by Peanuts

#108 January 1967
THE $OUND OF MONEY
A few panels feature different Peanuts kids mixed in with the Von Tripe children.

#117 March 1968
WILL SUCCESS SPOIL CHARLIE BROWN?
The gang has turned into a bunch of snobs. A toupee wearing Charlie Brown wants to sue Planters.

#118 April 1968
HIPPIE (THE MAGAZINE THAT TURNS YOU ON)
ARTICLE TITLE -- 'Uptight' Is a Dry Sugar Cube
Patterned after 'Happiness is a Warm Puppy'

#120 July 1968
MOTHER'S DAY CARDS DOWN THROUGH HISTORY
Ludwig van Beethoven is shown with a Schroeder statue on his piano.

#122 October 1968
MAD'S UPDATED COMIC STRIP HEROES
Charlie Brown with the head of then Secretary of State, Dean Rusk, substituted.

#123 December 1968
ADVENTURES OF THE RED BARON
OR "Happiness Ist Ein Kleine Kaput Beagle"
The other side of the Snoopy/Red Baron battle is told from the Red Baron's perspective. This was continued in issue #127 June 1969 with the subtitle: "Security Ist Eine Grounded Beaglehundt"

#124 January 1969
SONGS OF CRIME, VIOLENCE, WAR, HATE, BIGOTRY, THE LUNATIC FRINGE, AND ALL-AROUND ECCHINESS
Charlie Brown and Lucy as hippies on a Harley run down Snoopy to the tune of "A Bicycle Built For Two."

#125 March 1969
IF COMIC CHARACTERS WERE PSYCHOANALYZED
With his psychiatrist's help, Charlie Brown doesn't feel depressed any more when bad things happen, like losing his kite in a tree. He just feels "Rotten!"

#126 April 1969
IF COMIC STRIPS COVERED THE BURNING ISSUES OF THE DAY
Snoopy thinks, "...they're carrying this urban renewal program a little too far!!" as the wrecking ball demolishes his doghouse.

#126 April 1969
The Fold-In asks "Which modern artist is most successfully communicating with his audience?" The solution is "Good Grief!" with Charlie Brown, Lucy and Snoopy appearing out of the randomness.

#127 June 1969
FURTHER ADVENTURES OF THE RED BARON
OR "Security Ist Eine Grounded Beaglehundt"
Sequel to story in #123.

#127 June 1969
BULLBIT
Steve McQueen holds a book with Charlie Brown on the cover entitled "Happiness is a Warm Gun."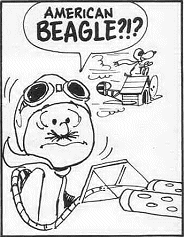 #128 July 1969
APPROPRIATE COMIC SOUND EFFECTS
Charlie Brown's kite goes "FLOPPPP"

#130 October 1969
IF THIS 'NUDITY TREND' IN MOVIES EVER SPREADS TO THE COMICS
Charlie Brown meets the new kid on the block who unpacks a moving van in the nude, but Charlie Brown can't remember if the kid was a boy or girl because "He wasn't wearing any clothes!"

#131 December 1969
IF EVERYONE TALKED LIKE DON RICKLES
SUBTITLE -- If People in the Newspapers Talked Like Don Rickles
Charlie Brown to Lucy: "Hey, you female dwarf! Why don't you get a new dress? The wool in that one's so old and wrinkled it looks like the sheep's still in it!"

#138 October 1970
IF 'PEANUTS' WERE A WEEKLY TV SERIES
The gang is shown in TV shows like 'Young Doctor Brown', 'Peanut Squad', 'Peanuts Place', 'Charlie Brown, Attorney for the Defenseless', and 'The Chuck Brown Show'.

#138 October 1970
The cover shows Alfred as Charlie Brown stealing Snoopy's place on the roof of his doghouse.

Special #2 Spring 1971
A Bonus "Wall-Nut" portrait shows Alfred as the Red Baron with Snoopy flying in the background.

#148 January 1972
IF THE CHARACTERS IN 'PEANUTS' AGED LIKE ORDINARY PEOPLE
The gang is shown at ages 19, 35 and 65.

Special #6 Summer 1972
A Bonus Mischief Sticker says "'NANCY' HAS 'PEANUTS' ENVY"

Mad and Peanuts fan, Harv Laser, e-mailed me a scan of this rare Peanuts strip from July 5, 1973,
proving that Schulz was capable of poking fun at Mad, like they'd done to Peanuts over the years.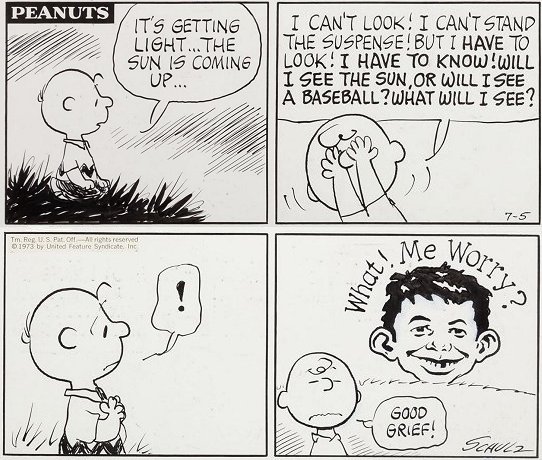 #160 July 1973
TELL-TALE COMIC STRIP BALLOONS
Charlie Brown as a comedian on stage "bombs" in front of the gang. This had a sequel in #279 June 1988. Snoopy's burp is in the form of Woodstock.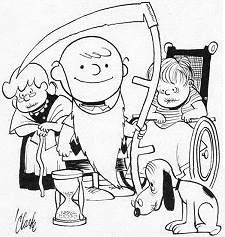 #164 January 1974
MAD'S 1973 CHRISTMAS POEM
An excerpt:

"We'll send Charles Schulz an armored car
Or maybe one huge cookie jar
To hold the cash he's pulling down
From merchandising Charlie Brown"
#170 October 1974
THE ECCHORCIST
Linus, with plastic shovel and bucket in hand, alerts Father Merry during the opening scene that he's dug up something "incredible, magnificent, priceless!"

#190 April 1977
IF FICTIONAL CHARACTERS LIVED IN THE "REAL" WORLD OF TODAY Linus' security blanket is a folded-up $10 bill.

#194 October 1977
THE DAILY RHYME NEWSPAPER

"Kick the football, Charlie Brown!
I promise I won't let you down!
I think you're leading me astray!
I swear I'm not so kick away!
(AAUGH!)
Behold the biggest chump of all!
I think I'll take up volleyball!"
Special #26 Winter 1978
The cover advertises the "Makin' Out" record bonus with famous couples pictured around the record, including Charlie Brown and Lucy.

#204 January 1979
THE INCREDIBLE BULK (TV satire)
Charlie Brown, Linus, Snoopy, standing together on a city sidewalk, watch an angry "Bulk" run by.

#210 October 1979
DON MARTIN'S GUIDE TO SOME VERY OBSCURE COMIC SOUND EFFECTS
The sound of Snoopy falling asleep on an icy roof: "ZLITZ PLORF"

#211 December 1979
THE MAD OVERRATED-UNDERRATED BOOK
Lucy is overrated. Linus is underrated.



#213 March 1980
DON MARTIN LOOKS AT DRACULA
Dracula reads 'Peanuts' in the newspaper and is inspired to sleep on top of his closed casket like Snoopy on his doghouse.

#214 April 1980
COMIC STRIP CURSING SYMBOLS TO MATCH A GIVEN SITUATION
Pedestrian Snoopy uses some choice car brand symbols as a car sends him flying.

#216 July 1980
A HIGH SCHOOL YEARBOOK FOR AVERAGE CLODS
The Millard Fillmore Spectator Yearbook of the Graduating Class of 1980 has Charlie Brown featured on the cover as "Our Hero."

#221 March 1981
MAD'S NEW PHOBIAS FOR THE '80's
Cutseyphobia - "Fear of not being able to buy anything that doesn't have a 'Peanuts' or 'Sesame Street' character on it."

#225 September 1981
FLOPEYE (movie satire)
Running commentary from the gang speculating how real actors would play them in a movie.

#232 July 1982
THE GREATEST AMERICAN ZERO (TV satire)
Charlie holds up a sign featuring Snoopy as "Greatest American Hero".

#236 January 1983
THE ANATOMY OF THE HUMAN BODY BASED ON THE COMICS
Section on "The Skull" depicts example of Charlie Brown's round skull:
"...indicates an underachiever. Speech is not impaired, but sounds bewildered and confused."

#241 September 1983
MERCHANDISING WE'RE ALMOST SURE TO SEE AND HATE!
Peanuts characters on religious attire.

#242 October 1983
MAD'S ALL-INCLUSIVE DO-IT-YOURSELF PEANUTS COMIC STRIP
You choose the dialogue for Charlie Brown and Lucy.

#253 March 1985
WHEN ALL COMIC STRIP CHARACTERS TURN ROTTEN
Charlie Brown kicks Lucy in the head during their famous football routine.

#257 September 1985
WITLESS (movie satire)
The gang, dressed as Amish, helps conduct a search in a hayfield.

#264 July 1986
WHEN THE RAMBO INFLUENCE SPREADS EVERYWHERE
After Charlie Brown gets his annual rock from the same lady on Halloween, Snoopy blows up her house, Rambo-style.

#266 October 1986
BACK COVER
Charlie Brown, Snoopy, Peppermint Patty are among Johnny Carson's Tonight Show guests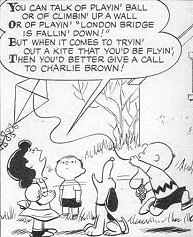 #272 July 1987
WHEN AMERICAN TV PROGRAMS ARE SHOWN IN RUSSIA
A 'Peanuts' Halloween special shows the gang trick-or-treating. The dubbed-in dialogue has them begging for food and suffering the humiliation of having to wear masks.
(and)
MORE CELEBRITY SILHOUETTES
Compares John McEnroe with Lucy.

#276 January 1988
COMMEMORATIVE CHRISTMAS ORNAMENTS
Snoopy sleeps on a TV with Charlie Brown on screen. This commemorates the "19th Network Repeat of the 'Peanuts' Christmas Special."

#279 June 1988
FEEBLE ATTRACTION
The kids are among other children in a daycare.

#280 July 1988
WHEN OTHER COMIC STRIPS START USING THE 'FAR SIDE' FORMULA
In "The Peanuts Side" we're taken into Snoopy's Den where he sits in a comfortable chair reading 'Doghouse' magazine next to wall-mounted Woodstock heads from his various hunting successes.

#284 Jan 1989
biggie (MOVIE PARODY)
Within this Tom Hanks movie parody, Lucy asks Charlie Brown if he "could be BIG tommorrow,
would he miss his childhood?" Charlie answers, "What's to miss?"

#293 March 1990
AL JAFFEE'S FOLD-IN SOLUTION
What beloved, legendary ball player is a poor bet to make the Hall of Fame?
Surprise Answer: Charlie Brown

#295 June 1990
BLEAK FOR THE FUTURE - PART II
Splash Page - Charlie Brown and Lucy discuss a future without Mad Magazine.

#295 June 1990
IF FAMOUS MOVIES WERE MADE INTO COMIC STRIPS
In "The Godfather" Chuck 'The Blockhead' wakes up with Woodstock heads in his bed.

#306 October 1991
BACK COVER -- HOW TO SPOT A MUTT LIFE REPRESENTATIVE
Snoopy gets every deceptive part of his body picked apart and proclaims, "Get Mutt. You'll Pay"

#326 March-April 1994
WHEN TODAY'S CONTROVERSIAL ISSUES TOTALLY INVADE THE COMICS
Charlie Brown seeks out Lucy's advice on his losing ball team and the little red-haired girl who ignores him, but she changes the subject to his insurance coverage and "Bill and Hillary Clinton and their stupid health care plan."

#348 August 1996
COMMEMORATIVE STAMPS FOR MORE RECENT COMIC STRIPS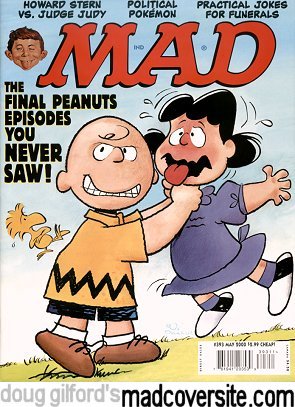 Charlie Brown steps in Snoopy doo. "45 years of violating municipal leash laws."

#350 October 1996
KATHIE LEE'S 12 WARNING SIGNS THAT YOU'RE WORKING IN A SWEATSHOP
The kids are sprinkled throughout a factory floor along with other iconic comic children.

#353 January 1997
OBITUARIES FOR COMIC STRIP CHARACTERS
"Charlie Brown Dies of Football Injury"

#374 October 1998
WHEN SUICIDE CARDS REALLY CATCH ON
Snoopy is pictured hanging from a noose. "In your time of loss there's only one thing we can say..." Inside the gang yells, "AUUUGHHH!"

#386 October 1999
DR. KEVORKIAN'S CHILDREN'S BOOK CLUB
A picture of Charlie Brown with a tumor on his stomach is featured on the cover of "It's Inoperable, Charlie Brown."

#393 May 2000
FINAL EPISODES OF PEANUTS YOU NEVER SAW
Famous situations are resolved.

#402 February 2001
THE WORST WING (TV SATIRE)
The gang busses into Washington for a White House tour.

#449 January 2005
THE MAD 20 DUMBEST PEOPLE, EVENTS AND THINGS OF 2004
Charlie Brown bulks up after Lucy refers him to her "friends over at Balco" in #5's "Steroid Use in Baseball"

#451 March 2005
THE FUNDALINI PAGES - GRAPHIC NOVEL REVIEW - THE ANALLY COMPLETE PEANUTS
A compendium spotlights the rare days of the strip before it became popular.

#502 January 2010
THE MAD 20 DUMBEST PEOPLE, EVENTS AND THINGS OF 2009
Chris Brown replaces Charlie Brown in #14's "You're A Bad Man, Chris Brown"

#538 April 2016
DONALD - GOP NUTS (political movie poster)
Donald Trump as Peanuts character in play on theatrical movie poster

#548 December 2017
IT'S THE GREAT PUMPKIN, CHARLIE BROWN - 2017 EDITION (TV SATIRE)
Modernized version of the original 1966 TV special

And I'm sure there're more!!!!

Sample quotes and art are copyrighted by E.C. Publications and Mad Magazine.